Amedeo confident of 11-abreast A380 availability from 2016
A380 leasing specialist Amedeo is confident that Airbus will complete development of the planned 11-abreast seating modification in time for the start of its deliveries in late 2016.
The London-based lessor – which is in talks with potential customers to place the 20 A380s ordered at the Singapore air show in February – is proposing a notional 590-seat, four-class configuration incorporating an all-economy 11-abreast main-deck layout.
Currently, the A380's standard economy layout is 10 abreast, the same as the maximum on Boeing's 747 and 777 widebodies, but with a wider seat (18-19in, depending on the airline). The addition of an extra seat adds up to 40 more seats on the main deck, with a seat width of 18in.
"Airbus has launched 11-abreast and the design is being finalised," Amedeo chief executive Mark Lapidus tells Flightglobal. "We're pretty confident we can deliver an 11-abreast aircraft in 2016."
Lapidus says that the changes required to accommodate 11-abreast seating are being finalised. "There are a couple of things being planned," he says. He understands that these involve slightly raising the cabin floor and the height of the seats. However, he does not expect the changes to create a new A380 build standard.
"When we market the aircraft, we suggest the 11-abreast layout. It clearly makes the economics of the aircraft even more fantastic," he adds. "You can have chunk of economy [on the main deck] at 11-abreast and some premium economy at 10-abreast."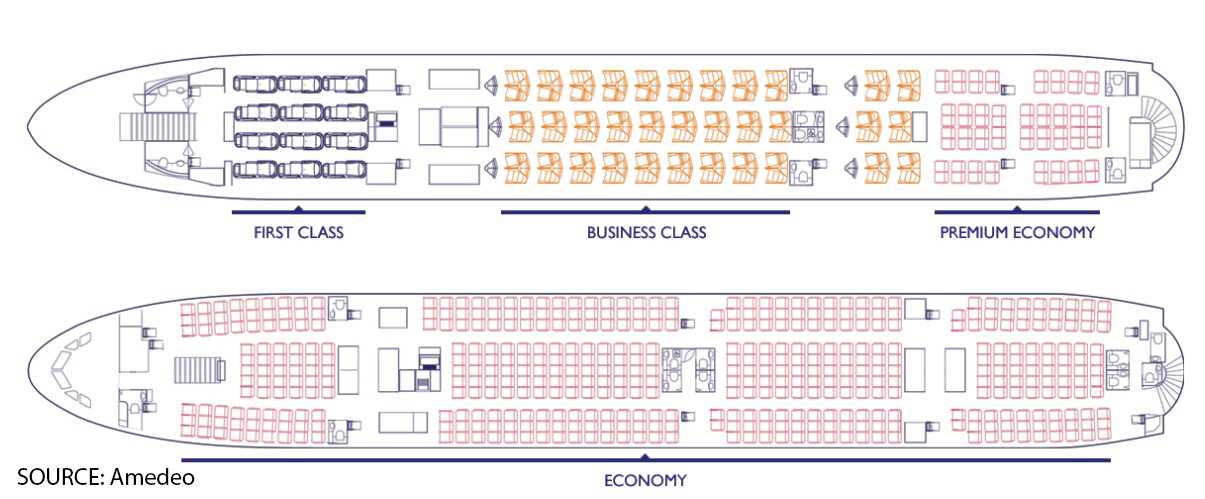 Amedeo's A380 proposition to potential customers centres on offering simplified configurations with the best unit economics, says Lapidus. "We're looking at aircraft configured with a minimum of 560 seats [with 10-abreast economy seats]; up to 630 seats [with 11-abreast]."
Its baseline four-class, 590-seat layout incorporates a 456-seat all-economy main deck with 11 abreast seating (see diagram). The upper deck comprises three premium cabins with a total of 134 seats, including 12 first, 66 business and 56 premium economy seats.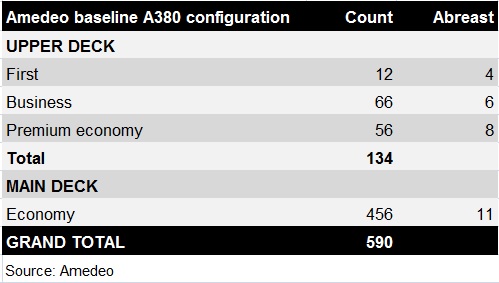 The A380's exit limit allows it to accommodate up to 853 passengers, but the highest-density configuration currently in service is 538 seats on Air France's aircraft. However, next year Emirates is to introduce a two-class, 617-seat layout while Russian carrier Transaero will receive its first A380s in a three-class 652-seat layout. This will incorporate 616 economy seats distributed across both decks at a maximum of 10 abreast.
Amedeo is yet to announce placements for any of the 20 A380s it has on order, or to choose an engine. "It would be good [to announce a lessee this year]. We're focusing on new operators but obviously if any of the current operators call us, we'll be happy," says Lapidus.
Although Amedeo's end users could play a role in the engine selection, Lapidus expects the lessor to have "quite a bit of influence to drive the decision. We're continuously in discussions with [Rolls-Royce and Engine Alliance] to get the best deals for us and have made them aware that we could drive the decision to the point where perhaps we would go with one or other supplier on all 20 aircraft."
Lapidus adds that "it's not impossible" Amedeo could conclude an engine selection before it announces any lease placements, and that he does not anticipate any issues obtaining engine delivery slots: "With both [suppliers], there is availability to get engines."