A380 Product and LOPA
Amedeo's baseline 4-class cabin layout featuring 590 seats and 11 abreast economy class seating offers an optimised cabin layout combining comfort and efficiency and incorporating a pre-defined economy main deck configuration.
This cabin layout will allow for upper deck boarding directly from the lounge offering a unique flying experience for premium travellers on the upper deck and a spacious and quiet economy main deck environment.
Cabin Interior Information
Ratios
Class
Seat
Pitch
ABR.
LAV.
Galley.
Trolley
C/A Seat
Stowage
Coat
TR. / PAX
PAX / Lav.
Upper DeckMain Deck
UD
MD
UD
MD
UD
MD
UD
MD
UD
MD
UD
MD
UD
MD
UD
MD
UD
MD
UD
MD
UD
MD
F / C
12
82″
4
2
3
12
2
12
2
1.0
6.0
B / C
66
60″
6
4
5
27
4
–
2
0.41
16.5
PY / C
56
37″
8
2
1
7
2
1
–
0.13
28.0
Y / C
456
31″
11
11
9
46
11
1
1
0.10
45.6
Total
590
82″ / 60″37″ / 31″
4 / 6 / 8 / 11
19
18
92
19
14
5
Facts & Figures
The A380 Global Success Drivers

The A380 Today
There are currently 124 x A380s in operations flying on 10 carriers.
The A380 orderbook comprises 324 orders from 20 customers with 8 consecutive years of re-orders.
Across the entire A380 network, there are more than 130 flights per day carrying around 1.5 million passengers per month.
The A380 has successfully completed 6+ years in service with 137,000+ revenue flights, 1.1 million flight hours and 50+ million passengers carried.
The A380 boasts a market share of about 90% compared to its nearest competitor the Boeing 747-8I.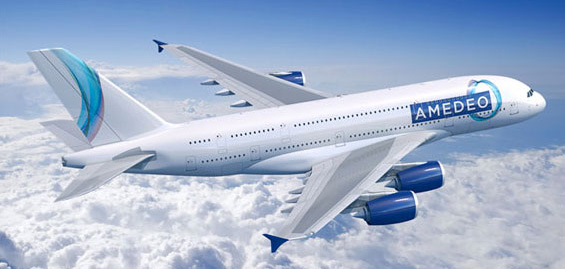 Lowest Cost per Square Foot
On a cost per square foot basis, the A380 has a significant advantage relative to the 777-300ER and the future 777-9X.
Capturing Higher Yields
80% of routings operating an A380 have seen an increase in yields
Average yield delta of $3.1c. per RPK or approximately +30% fares
Offers New Market Revenue Opportunities to Airlines
Unconstrained demand (spill) recapture – large volumes of spill observed with all major carriers worldwide. Spill recapture will have a significant impact on the highest marginal yields.
Fare stimulation, economy-focused – demand can be stimulated with a reasonable reduction to price in the lower fare cabins.
Market expansion – airlines can leverage new or expanded premium cabin to increase yield per square foot by leveraging previously ignored distribution channels and O&D markets.
Market share shift – the A380 increases market share due to increased footprint that drives higher market presence.
Highest Seat Load Factor
The A380 is consistently capturing its seat share; there is no loss in load factor as revenue management systems strive to fill the aircraft.
The Right Aircraft at the Right Time
Slot, time zone constraints, and passenger preferences drive frequency concentration.
The larger the route, the more compelling it is to use larger aircraft due to slots and scheduling constraints as every airline would like to be part of the airport peak traffic waves.
Concentration of Flights on the Long-haul
Aviation Market
The A380 Is Needed
2013
There are 225 x 400-seat and above aircraft routes today with 40 being underserved due to deployment of smaller aircraft and more than 125 being served with more than 18 year old aircraft offering inferior product to the A380
320 x B747-400 aircraft are currently in service with an average age of 18.5 years.
124 x A380s are currently in service with 200 on order (an orderbook of 324 aircraft in total).
2021
There will be 410 x 400-seat and above aircraft routes in 2021, which will require additional 500 VLA.
There will be 145 x B747-400 still in service (assuming an average age of 25 years, 175 aircraft will be retired by 2021)
Assuming 324 x A380s in service (which reflect the current A380 orderbook).
Constraints to Frequency Growth
Frequency constraints at major airports will further strengthen the case for larger gauge aircraft.
IATA slot constrained airports by region
Count by region
70% of megacities are slot constrained today
Airports with runway expansion plans
Among top global airports, plans within 10 years
| | |
| --- | --- |
| Airport | Runway expansion plans |
| CAN | 3rd runway and 2nd terminal under construction |
| CGK | 3rd runway planned with new terminals |
| CKG | 3rd runway and new terminal under construction |
| CLT | 4th parallel runway and new terminals planned |
| DEN | Master plan includes more than 6 runways |
| HKG | 3rd runway and new terminal proposed |
| IAD | 5th runway on master plan |
| IAH | Master plan has room for 2 more runways |
| ICN | Phase three launched 2013 |
| MEL | New terminal and 3rd runway in master plan |
| MUC | 3rd runway under judicial review |
| ORD | Reorganization of airport in progress |
| PVG | 5th runway and 3rd terminal by 2015 |
| SIN | 3rd runway and 2 additional terminals |
| SZX | 2nd runway available following terminal expansion |
Attractive Long-Term Industry Prospects
Air traffic has followed an upward trajectory, outpacing GDP, with only four years of negative growth since 1970. Strong growth in demand for aircraft is driven by emerging markets growth and replacement fleet demand in developed markets.
Growth in World Air Traffic (RPK bn)²
Growth in Air Traffic by Region (RPK bn)²
Shift from Ownership to Leasing
The aircraft leasing market share has grown from 23% in 2000 to 39% in 2012 and is expected to keep on growing. Even airlines with strong credits (e.g. Emirates and Singapore Airlines) and airlines with good access to capital markets (e.g. United and American) are leasing aircraft extensively.
Key Drivers
Access to lower cost of capital
Reduced capital commitment
Operational flexibility
Limited risk exposure and residual value management.